Requirements
Graduation
Own Laptop or Tablet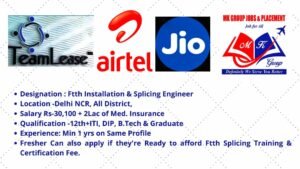 AFTER TRAINING & CERTIFICATION CANDIDATES WILL GET PLACEMENT AS SPECIFIED BELOW
JOB DESCRIPTION
MK Group Jobs Hiring Ftth Installation & Fiber Optical Cable Splicing Engineer for Top MNC Telecom Company of India & Gulf Countries Telecom Company,
Qualification: 12th+Graduation, ITI- Electrical/ Electronics/Wireman, Diploma-EE/EEE/ECE, B.Tech-EE/ECE/EEE/ME
Job Location:
1) Pan India, Metro City of (Delhi NCR, Gujarat, Maharashtra, Rajasthan, UP, Punjab, Haryana etc)
2)Gulf Country (Dubai Abu Dhabi & Muscat)
Job Profile- Ftth Installation & FOC Splicing, ONT, GPON, EPON, OTDR, DHCP & wifi Router Installation.
Salary up to Rs-31,000/- + 2 Lac Med. Insurance
Experience – Minimum 1yrs (Telecom Fiber Optic Ftth Installation & FOC Splicing Engineering)
Note: Fresher Candidate Can also Apply if they can afford Ftth & Splicing Training Fee half Month of Salary in two Equal installment, 1st Instalment Rs-6500/- at the time of Enrollment & 2nd After Receipt of 1st Month Salary.
Duty Type- General Onsite work
Candidate Must have Driving license their own Convenience (Bike, Scooty etc)
Job Role:
Assisting Head of Operation to plan and build the operations in the field of Fiber Optic cable Splicing, Installations, Maintenance & Troubleshooting etc.